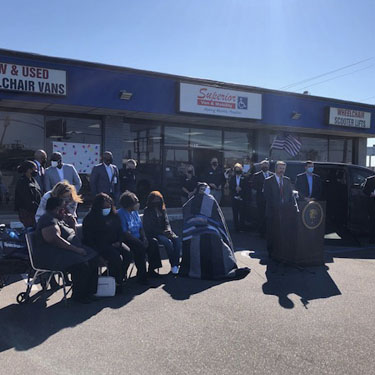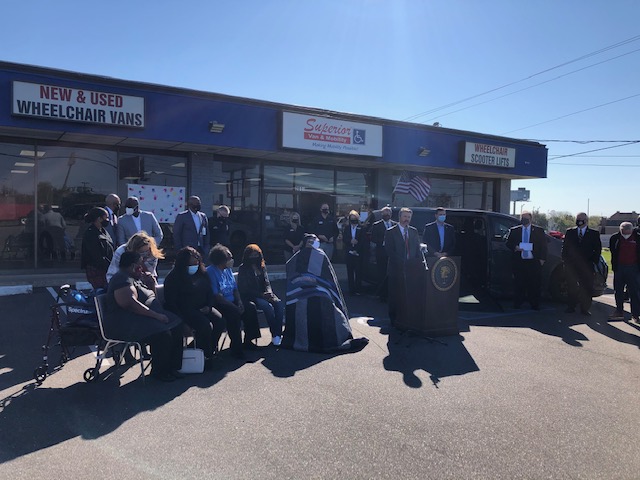 Webster Henry's managing shareholder, Scott Speagle assisted with a Vehicle Lease and Special Needs Trust that allowed Alabama Wounded Blue to present Montgomery Police Officer Carlos Taylor with a specially equipped van to meet his needs following a tragic accident while in the line of duty and to donate $33,000.00 raised from our amazing Montgomery community for the benefit of Officer Taylor.
Officer Carlos Taylor of the Montgomery Police Department was severely wounded in February 2017 in a motor vehicle accident while on an undercover burglary detail. He has a brain stem injury and is confined to a wheelchair. He cannot do anything except blink his eyes.
Officer Taylor has a tremendous impact on our community as evidenced by the participation of numerous community leaders including Alabama Wounded Blue, Stivers Automotive Group, Superior Van and Mobility, Braun Ability, ALFA, Attorney General Steve Marshall, District Attorney Daryl Bailey, and the many who donated money to assist our wounded officer. To learn more about this event and Officer Taylor's story, please visit:
https://www.montgomeryadvertiser.com/picture-gallery/news/2020/11/17/officials-presented-mobility-wheelchair-accessible-van-family-injured-officer/6326819002/
https://www.wsfa.com/2020/11/17/injured-montgomery-officers-family-gets-keys-new-van/
https://www.alabamanews.net/2020/11/17/family-of-injured-police-officer-receives-donated-van/
During the presentation, one of the speakers stated that people will follow your actions before they will follow your words.  Please let today's culmination of efforts for the past year to make this vehicle a reality exemplify sincere actions to help a wounded police officer, not just words.