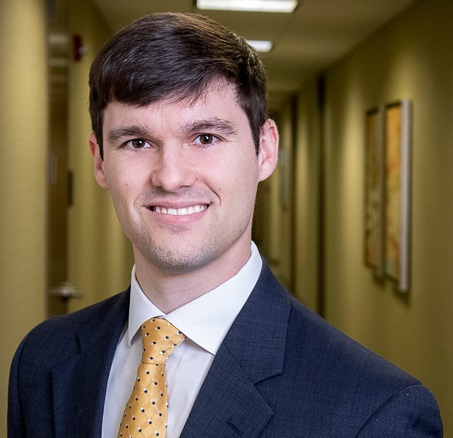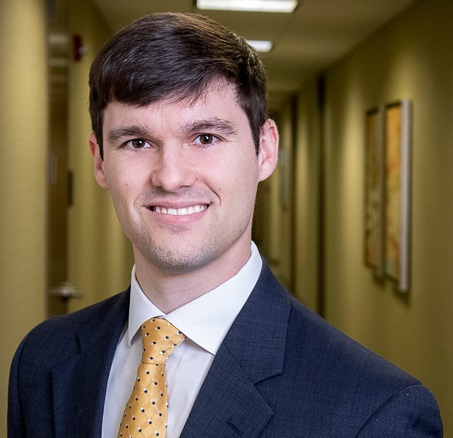 Webster, Henry, Bradwell, Cohan, Speagle & DeShazo P.C is excited to announce that David S. Terry has been elected as a Shareholder. Congratulations David!
David was born in Homewood, AL and grew up in Sylacauga, AL. He graduated from the University of Alabama magna cum laude with honors in 2013 with a degree in commerce and business administration, double majoring in finance and economics. David earned his law degree from the University of Alabama in 2016.
After beginning his career at Laney & Foster as an associate in 2016, David joined Webster Henry in January 2019 where he has served as an asset to the firm and his clients vigorously representing them both in and out of the Courtroom.
David's practice focuses on civil litigation, with an emphasis on defending claims of professional liability, construction disputes, and insurance defense. The majority of David's practice is dedicated to defending lawsuits, negotiating contracts, and providing pre-claim assistance in defense of professionals, including: attorneys, architects, engineers, surveyors, accountants, directors and officers, real estate brokers and agents, insurance brokers and agents, and financial planners. David has experience litigating cases involving the defense of contractors, subcontractors and materialmen in alleged construction defect cases and construction-related personal injury cases. David also represents the interests of insurers (and corporate clients) in both first-party and third-party litigation cases, including wrongful death, automobile accidents, premises liability, business torts, and declaratory judgment actions.
Webster Henry is committed to providing excellent, personalized legal counsel that is focused on serving its clients' needs with flexibility, devotion to detail, and the highest standards of personal and professional ethics. The firm is committed to representing its clients with integrity, professional excellence, and bold thinking. The firm was established as Webster & Henry, P.C., on January 1, 2001, by its original shareholders, William H. Webster and D. Mitchell Henry in Montgomery, Alabama. Today, the firm is rated AV by Martindale-Hubbell and has a total of twenty-seven attorneys, who bring with them more than three hundred years of combined legal experience in the public and private sectors. Our attorneys have tried hundreds of cases to juries in both state and federal courts. The firm maintains offices throughout Alabama, in Montgomery, Birmingham, Auburn, Mobile, as well as Destin, FL, and Jackson, MS, within easy reach of any location in Alabama and ready accessibility to the Southeast. With licensure in multiple states, the firm's members routinely serve clients in Alabama, Georgia, Florida, and Mississippi.